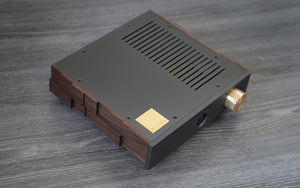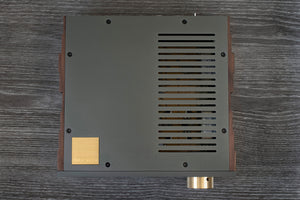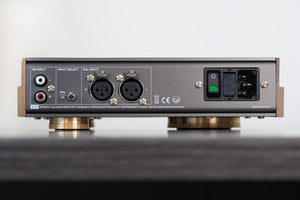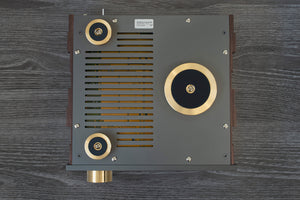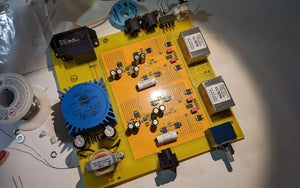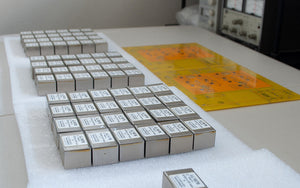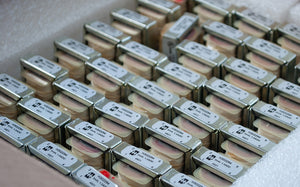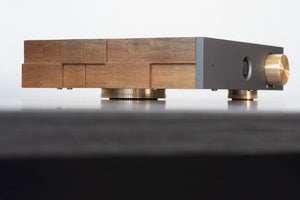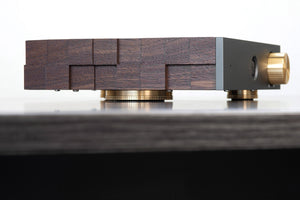 N.02
DSHA-3FN
Immediacy. Information. Elegance.
Regular price
Next Run - Early 2024
Next run will have 120V and 220-240V amplifiers!
The differential path less traveled….transforming signal into great sound.
Original Recipe+
The circuit, internal design, and parts are the same as the DSHA-3F amplifiers that were produced by Doug for ecp Audio.  (Yes, that includes the linear power supply!)  What did we add?  For your convenience, a single-ended RCA input and switch.  What did we remove?  Some space the orignal amp took up on your desk.
Setting the Stage
If your listening space has the blackest background (no power or signal noise), it enables you to hear the smallest reverberations and spatial details in your music. The differential topology of the DSHA-3FN avoids ground loops from sources and radio interference. The circuit phase-cancels internal noise and doesn't feed back any distortion to the start of the circuit (no global feedback).
Cleaner Energy
The highly regulated linear power supply feeds the circuit clean power. Since power is not derived from power supply capacitors, the signal does not pass through capacitor banks.
Total Control
Each channel has a differential buffer tightly controlling each driver. Identical, but opposite signal phases start and stop each of your headphone drivers quickly and precisely. The lowest sub-bass keeps its definition. Get all the impact, dynamism, and engagement out of your music. 
Rarefied Air
Lundahl amorphous cobalt input transformers decouple noise from the source and negate the need for some capacitors in the signal path. Fine mid and high frequency signals pass through to your ears unobscured by noise from source, power supply, internal interference, or the unwanted vibrations of the drivers. There's no higher, odd-order harmonic distortion to make the treble etched or fatiguing.
Design Objectivity
The design and execution of the DSHA-3FN circuit leads to absence of background noise, high channel separation, low inter-modulation distortion, great squarewave response, excellent gain linearity over a large dynamic range, and an extended frequency range. Zero global feedback and special transformers give this amplifier its tube-like touch...
We hope you enjoy your headphones and recordings in a way that you have never heard them before!
"Amazing driver control … holography and slight euphony … not something in comparison most of my other solid states can do."
Product Highlights
Original DSHA-3F circuit design with highly regulated linear power supply
All the same original parts with Lundahl Amorphous Cobalt Transformers
DSHA-3FN adds: single-ended RCA input and switch
Now more stackable, ideal for desktop use
Limited First Run
Frequency response < ±1 dB
5 Hz to 35 KHz
THD 1 KHz
32 ohms
< 0.02%
300 ohms
< 0.015%
IMD CCIF
32 ohms
< 0.0004%
300 ohms
< 0.0003%
Dynamic range
> 120 dB
Residual noise 20 Hz to 20 KHz
< -100 dBu / < 7.75 uV
Crosstalk 1 KHz
< -80 dB
Gain
1.5x, ~4 dB
Gain linearity 0 to -110 dBu
< ±0.2 dB
Estimated bandwidth
< 1 Hz to > 160 KHz
Output impedance
4.9 ohms
Topology
Unique fully differential, deep Class A
Size
230 mm W × 242 mm D (case + switch + volume knob) × 60 mm H (with feet)
Weight
5 lbs. 2 oz. (without cable)
What does the DSHA-3FN stand for?

"DSHA-3F" stands for "Differential Stereo Headphone Amplifier, the 3rd version with Focal in mind". The added N is for NITSCH. (And of course, people use a lot of different headphones with the amp.)

What are the advantages of a differential circuit?

Better stereo separation and reduced crosstalk mean that there is improved low-level detail. There is a very high quality linear power supply. But there is also superior power supply noise rejection. Any power supply ripple will appear on both phases equally. And any ripple common to both phases cancels at the output.

Why is NITSCH taking over the production of the DSHA-3F?

There was no plan for ecp Audio to build another run of this amplifier. It's a ton of labor and expense to build. But it's great...the headphone community regards it as one of the very best solid state headphone amplifiers ever made. NITSCH is looking to find these gems and make them more available, to create a dream line-up of unique designs that are outstanding and should be made for as long as possible.

How does the amp de-couple headphone back-EMF?

Naturally, amplifiers fight with headphone drivers. The driver wants to shake back and forth...when it does that it pushes signal into the amp. This interaction can have an effect on the signal. The way to fight that back-EMF is to damp the drivers and reduce the mechanical vibrations that occur as a result of electromechanical excursion. Imagine a spring on a shock absorber that has a piggyback damper to control bounce from rebound. Where a 300B amp provides a lot of voltage, the DSHA-3FN has stiff constant current sources which are super-super high impedance. This circuit keeps a tight grip on the drivers and doesn't allow ripples from driver backlash. The volume pot is a linear 50ohm pot which also has a damping effect.
Product manual