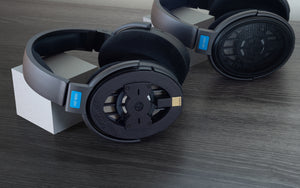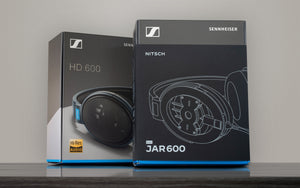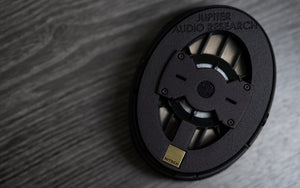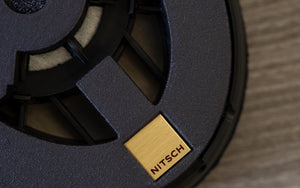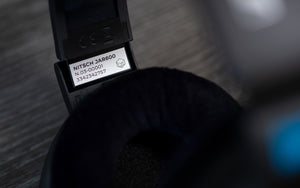 N.03
JAR600
For the Sennheiser Fan(atic)
Regular price
Need to build more! Please email to be on list.
Please click above and send a note to be notified of more.
For 30 years, both professionals and audiophiles alike have considered the Sennheiser HD600 a neutral, dynamic driver reference and one of the best headphones available.
About Jupiter Audio Research (JAR)

Jupiter Lee is an electrical engineer and audiophile who invented and perfected a set of modifications to make ultimate versions of the best Sennheiser headphones.
Although many say the HD600 can "scale up" with better sources and amplification, Jupiter designed and combined new structural parts, bracing, and foam, along with an application of special damping materials to scale up the HD600 into a new higher-performance version. The "JAR600" features improved airflow, vibration absorption, and damping.

When other members of the audiophile community discovered Jupiter's creations, he began accepting commissions. His modded cans have been slowly trickling out ever since.
NITSCH is helping expand his reach by replicating the JAR modification and rebuilding process in the United States with brand new production Sennheiser HD600.
You can read more about the story of NITSCH x JAR here.
PLEASE NOTE:  Due to the labor-intensive nature of these headphones, only a few pairs will be available each month.  If you see "out-of-stock" please check back for updates and availability ...thank you!
"The JAR600 takes the best of the aspects of the HD600 and HD650. It doesn't have the veil of the HD650. It has the speed of the HD600. It's more neutral than either."
Proprietary modifications that take the HD600 to a new level
High-end commercial 3D-printed parts
Fully braced, tensioned, and damped baffle, driver, and earcup
Revised driver airflow and foam
Hours of hand labor and craftsmanship (plastic surgery!)
Why aren't there a ton of Sennheiser HD600 mod kits available?

Great question! There are a few mods or kits out there for the Sennheiser HD6X0 series, but very few compared to HD6X0 lasting popularity. Being an open back design, modding takes more work to get right without making the mids "shouty". Most people enjoy the headphones for what they are and roll great systems around them to bring out their best. While there are a couple of popular modding schemes (usually to bring more clarity to the HD650 or add bass to the HD600), no other systems do as much to overhaul the driver and surrounding structure. If you are looking for the ultimate Sennheiser "HD6X0" version, you should look at Jupiter Audio Research.

Could you sell a kit?

Oh man, we wish. Kit would need to have new earpads and a new headband pad (if yours are worn down). Would need a special torque driver, cutting tools, tweezers, possibly magnification. JAR uses expensive 3D printed parts from a high-end printer with absorptive material, custom screws, and foam. LOTS of damping material is added (most is cut away and makes a mess). Instructions are needed but also practice- you'll destroy some Sennheiser drivers and headphones…this is just the cost of learning how to install/create even a fully-developed rebuild. In the end, it will cost you far less to have Jupiter (or NITSCH) do it.

Will you be doing any other Sennheiser JAR models?

NITSCH sent out the JAR600 vs. JAR6XX in a secret tour for community feedback when deciding which model to offer. It was a close call. JAR600 is more neutral while the JAR6XX is a bit more laid back and bassy/fun. Because of the special place that the HD600 and JAR600 holds for many of us as a neutral reference, we are starting with the JAR600. We would love to offer the JAR650 (or JAR6XX) too. We'll see if we can get faster at production and what the community wants. For the time being, you can still contact Jupiter at www.jupiteraudioresearch.com to see if he will work on your existing pair of headphones!