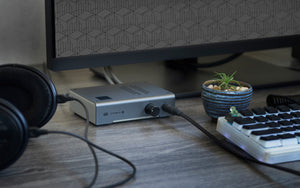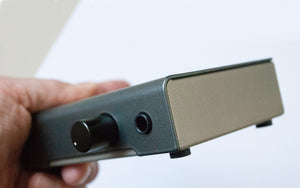 N.01
Magni Piety
A rich-sounding solid state amp with tube-like characteristics.
Regular price
EU, AU, UK, and US/CA available now!
Orders shipping in 1-2 days.
Schiit Collab Happens
While traveling around SoCal, Christian met up with Schiit co-founder Jason Stoddard at Schiit's Valencia location.  He got the chance to listen to an odd and interesting little amp.  The Magni Piety ("Apostolic Edition" at the time) had the look of a Magni amp, but its topology was closer to the Jotunheim 2.  It's reliance on certain parts made it infeasible for Schiit to produce at scale.  But could there at least be a limited run?  The amp became a perfect mission for NITSCH.
Solid state practicality, tube-like sound
Piety's design is a new take on the Continuity circuit used in the Jotunheim 2. Its output stage features a massively-paralleled transistor design that creates some triode-like characteristics. In plain English, Piety is half the size of a Jotunheim 2, uses smaller transistors, and was tweaked for a bit of tube-like sound.
Measurements aren't the whole story
In many ways, the Piety's design is the opposite of the Magni Heretic. (Piety vs. Heresy, get it?) While the Heretic uses op-amps, the Piety uses discrete parts. While the Heretic aims for the lowest distortion of any Magni, the Piety exhibits distortion characteristics, gain curves, and square waves resembling tube amps.
NITSCH Schiit
Amps available for US/CA, EU, UK, and AU/NZ now!
"Piety often felt as if it was a skillful combination of the powerful bass reminiscent of EC 300B, magic mid-range of SW51+ and high end transient response usually associated with Cavalli amps."
Product highlights
A new variation of the Continuity™ circuit design
Two-step gain switch
Powder-coated aluminum top and steel bottom chassis in unique NITSCH colorway
Designed by Schiit and hand-assembled by NITSCH in California
In the box
1 × NITSCH x Schiit Magni Piety
1 × Wall-Wart 16–16VAC, 1A
Frequency response
20Hz-20Khz, +/-0.06dB
Maximum power
16 ohms
1.2W RMS per channel
32 ohms
1W RMS per channel
50 ohms
0.8W RMS per channel
300 ohms
400mW RMS per channel
600 ohms
200mW RMS per channel
THD+N
High gain
Less than 0.013 at 1V RMS into 32 ohms
Low gain
Less than 0.009 at 1V RMS into 32 ohms
IMD
High gain
Less than 0.0012% at 1V RMS into 32 ohms, CCIF
Low gain
Less than 0.001% at 1V RMS into 32 ohms, CCIF
SNR
High gain
Greater than 94dB, A weighted, referenced to 1V RMS
Low gain
Greater than 104dB, A weighted, referenced to 1V RMS
Crosstalk
-90dB, 20 Hz-20 kHz in either gain
Output impedance
Less than 0.6 ohms at either gain
Input impedance
50K ohms
Gain
1.8x or 6.3x, selectable via rear switch
Topology

Fully discrete, massively paralelled transistors, new take on Continuity

Protection
Standard failsafe DC power input and muting relay
Power supply

"Wall wart" style 14-16VAC transformer, 1A

Power consumption
6W
Size
5" W x 3.5" D x 1.25" H
Weight
2 lbs
Why do we need THIS Magni??

We had quite the Schiit stack and used to switch between Vali and Magni. Piety is the Magni that we always wanted- solid state ease-of-use with a touch of tube punchiness. (Hint: try it in both low and high gain. And try with different headphones, it may surprise you!)

How, again, does it do that?

A ways back, Jason did a test to see if he could alter the Continuity circuit to fit in a Magni. Not only did it work, but he could also mimic some tube characteristics with the design.

Why doesn't this Schiit sell itself (on the Schiit website)?

Magnis usually need to be produced at higher volume. An order of Magni-tude higher volume. The Magni Piety uses difficult to source transistors that affect the sound. Schiit was kind enough to let NITSCH assemble and launch the product as a limited edition for the community.

Why NITSCH x Schiit?

NITSCH is inspired by what Schiit has done. A decade of innovation and great value. One of NITSCH's missions is to find great stuff that otherwise wouldn't get made- and make it. Another of NITSCH's missions is to add something special and different to what is available. This is another level of niche within our niche. Perfect for NITSCH.
Product manual